Chang'e-5 Completes Lunar Trip, More Space Missions Planned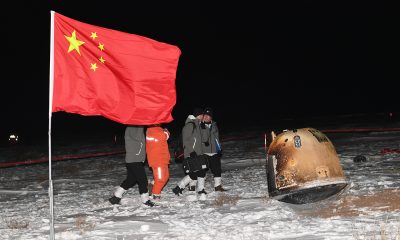 On the freezing grassland in Siziwang Banner, North China's Inner Mongolia Autonomous Region, a Chinese national flag was placed right next to the re-entry capsule of Chang'e-5 lunar probe, whose epic predawn landing on Thursday provided the perfect climax to China's latest moon missions—an epic moon sample return mission.
Such a moment recalled China's first-ever fabric national flag that was unfolded on the moon by the Chang'e-5 lander on December 3, another highlight of the mission.
"These moments would be treasured for years to come, and would always inspire curiosity to seek more space marvels," said one stargazer.
The safe landing of the long-awaited Chang'e-5 marked a perfect end to its 23-day journey to the moon, bringing back with it a precious parcel containing not just lunar samples, but also the hopes and expectations to advance humanity's understanding of Earth's celestial neighbor.
Chinese President Xi Jinping on Thursday early morning sent an immediate congratulatory message after the return of the capsule, the Xinhua News Agency reported.
Xi, also general secretary of the Communist Party of China Central Committee and chairman of the Central Military Commission, extended greetings to all members who participated in the Chang'e-5 mission in his congratulatory message.
China's lunar probe mission Infographic: Deng Zijun/GT
Read full article here.
*
Note to readers: please click the share buttons above or below. Forward this article to your email lists. Crosspost on your blog site, internet forums. etc.