Robredo's China Policy: Recognize Arbitral Ruling on West PH Sea First
Vice President Leni Robredo says she would pursue an 'inclusive and independent' foreign policy that favors no specific nation, if she becomes president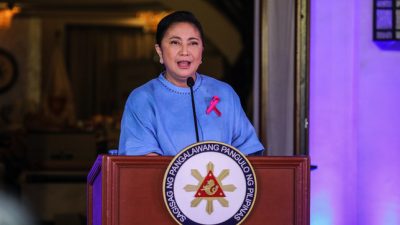 All Global Research articles can be read in 51 languages by activating the "Translate Website" drop down menu on the top banner of our home page (Desktop version).
Visit and follow us on Instagram at @crg_globalresearch.
***
If opposition leader Leni Robredo were to become president in 2022, she would pursue deals with China but its recognition of the historic arbitral ruling saying the Philippines owns the West Philippine Sea is a non-negotiable.
She first said having an "inclusive and independent" foreign policy that favors no specific countries would be beneficial for the Philippines.
Robredo then zeroed in on China, saying she would have no qualms on cooperation with Beijing in areas where there are no conflicts, like trade and investments.
"For China, we will collaborate with them in the areas that we have no conflict, such as trade and investments, much like what Vietnam has been doing. But when it comes to the West Philippine Sea, we cannot deal with them without their recognition of the arbitral ruling," said Robredo.
In 2016, an arbitral tribunal already junked China's expansive claim over the South China Sea, a historic win for the Philippines.
Critics, however, have said that the Philippines can push to forge stronger alliances with other foreign nations to put more pressure on China to leave the West Philippine Sea.
Robredo, in particular, said she would move to further strengthen relations with the United States to help protect the West Philippine Sea. The US is the Philippines' oldest treaty ally.
"We want to create better ties, especially in the areas of protection of our citizens, embracing exports, bolstering trade, military intelligence capabilities, and of course, protecting the West Philippine Sea," said the Vice President.
Robredo also eyes stronger diplomatic relations with the Philippines' other allies in Southeast Asia, the European Union, the United Kingdom, Australia, and other countries where there are large concentrations of Filipino migrant workers.
"We do all we can to cement bilateral agreements with them to ensure the protection of Filipinos and to ensure satisfactory labor conditions for them. We will be open to working with everyone so long as it is, of course, to the best interests of the Filipino people," said Robredo.
*
Note to readers: Please click the share buttons above or below. Follow us on Instagram, @crg_globalresearch. Forward this article to your email lists. Crosspost on your blog site, internet forums. etc.
Featured image: Vice-President Leni Robredo speaks to supporters as she announces her presidential bid in the May 2022 elections, at the Quezon City reception house on October 7, 2021. Jire Carreon/Rappler