Secret Inter-Korean Nuke Cooperation Rumors Officially Blasted
Uproar underscores trust gulf dividing South Korea's right and left regarding North Korea policy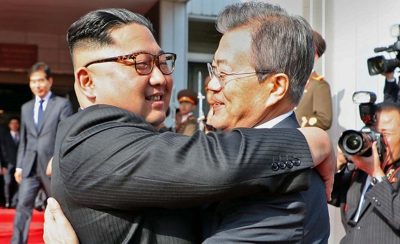 South Korean Unification Minister Lee In-young did not mince words when addressing explosive allegations that surfaced last week, alleging that South Korean President Moon Jae-in and North Korean leader Kim Jong Un had secretly discussed an inter-Korean nuclear power project.
"I think that the commentary coming from right-wing media is a baseless argument," Unification Minister Lee In-young told foreign reporters in Seoul on Wednesday. "The Ministry of Unification is in charge of inter-Korea cooperation and we have never had a discussion on building a nuclear power plant for them.

"You won't be able to find the 'n' [nuclear] word' in the new economic initiative we presented to North Korea."
That was a reference to plans for inter-Korean economic cooperation, handed over on a USB from Moon to Kim, in the heady days of 2018.
Then, following North Korea's surprise, last-minute participation in the Winter Olympic Games in South Korea, the formerly reticent Kim emerged from his isolation. Summits took place between the two Korean leaders in April and September, in addition to a historic summit between Kim and then-US President Donald Trump.