Swaths of Native Forest Near Great Barrier Reef Set to be Bulldozed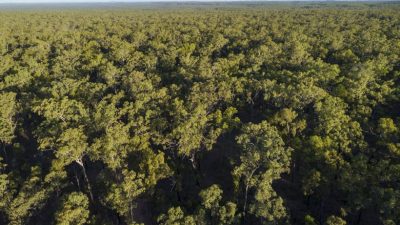 Featured image: Old growth forest in the vicinity of Kingvale Station, near rivers that flow into the Great Barrier Reef. (Source: Australian Conservation Foundation)
Federal officials plan to back the destruction of almost 2000 hectares of pristine Queensland forest in a move that threatens the Great Barrier Reef and undermines a $500 million Turnbull government rescue package for the natural wonder.
A draft report by the Department of the Environment and Energy recommends that the government allow the mass vegetation clearing at Kingvale Station on Cape York Peninsula. The area to be bulldozed is almost three times the size of the combined central business districts of Sydney and Melbourne.
The draft recommendation comes despite the department conceding the native forest is likely to contain endangered species, and despite expert warnings that runoff caused by the clearing may damage the reef.
Environment Minister Josh Frydenberg will make a final ruling on the proposal. It will test his long-stated willingness to protect the reef from poor water quality, which is triggered by land clearing.
Last month the government announced it would spend more than $500 million to protect the reef, including $201 million to improve water quality through better farming practices.
*
Nicole Hasham is environment and immigration correspondent for The Age, The Sydney Morning Herald, Brisbane Times and WAtoday.