Video: Thailand: US Openly Backs Anti-Government Mob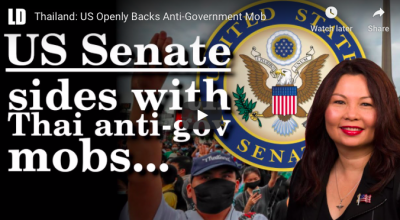 US Senators Bob Menendez and Dick Durbin introduced a resolution openly siding with the anti-government and anti-monarchy mobs in Thailand. 
I have exposed the US government's funding and backing of these mobs for years – and now the US government has openly sided with them – a possible sign of escalation.
I explain who Menendez and Durbin are – their history of backing US intervention and regime change around the globe – and why Thailand needs to take this threat seriously.
*
Note to readers: please click the share buttons above or below. Forward this article to your email lists. Crosspost on your blog site, internet forums. etc.
Sources
US Senate Committee on Foreign Relations – Menendez, Durbin, colleagues introduce Senate Resolution in Support of Thailand's Pro-Democracy Movement: https://www.foreign.senate.gov/press/ranking/release/menendez-durbin-colleagues-introduce-senate-resolution-in-support-of-thailands-pro-democracy-movement
Senate Resolution (full text):
https://www.foreign.senate.gov/imo/media/doc/DAV20G50%20-%20Thailan.pdf
US National Endowment for Democracy – Thailand:
https://www.ned.org/region/asia/thailand-2019/
US National Endowment for Democracy – Board of Directors:
https://www.ned.org/about/board-of-directors/
Bangkok Post – US 'does not back protests':
https://www.bangkokpost.com/thailand/general/1983359/us-does-not-back-protests
Examples: Menendez and Durbin's Pro-Intervention, Pro-War Statements: 
CNN – Bob Menendez becomes second Senate Democrat to oppose Iran deal:  https://edition.cnn.com/2015/08/18/politics/bob-menendez-corker-iran-nuclear-deal/index.html
Menendez Statement on New Sanctions Against Maduro Regime:
https://www.menendez.senate.gov/newsroom/press/menendez-statement-on-new-sanctions-against-maduro-regime
Dick Durbin Senate.gov – Durbin Slams Trump Administration Decision To Remove 12,000 Troops From Germany:
https://www.durbin.senate.gov/newsroom/press-releases/durbin-slams-trump-administration-decision-to-remove-12000-troops-from-germany
Menendez Statement on Trump's Dangerous Troop Withdrawal from Germany
https://www.menendez.senate.gov/newsroom/press/menendez-statement-on-trumps-dangerous-troop-withdrawal-from-germany
Dick Durbin Senate.gov – Durbin Presses President Trump To Demand Syria And Russia End Horrific Bombing Of Eastern Ghouta: https://www.durbin.senate.gov/newsroom/press-releases/durbin-presses-president-trump-to-demand-syria-and-russia-end-horrific-bombing-of-eastern-ghouta